This is a little Bronze, was probably part of some role playing game.
Yep Those are Doom marbles , man those licensing guys have no limits ;)
They even made Pin's of Dr Doom, I think there are more than those two ( the blue one is of Doom 2099 in case you wondered ;) )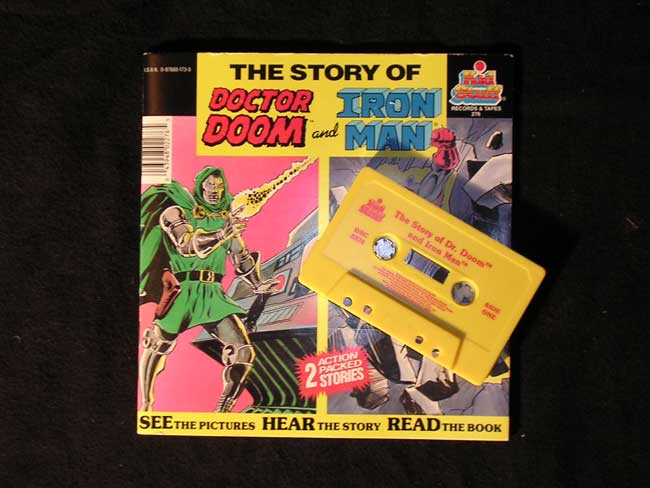 Nope in case you were wondering, i haven't listen to it ( yet ) . I fear that with my typical luck i might break the tape. I got to try though cause i want to hear what kinda voice they gave Doom
Dr Doom's stamp ( i bought that one while i was in San Josť...good times...)
This is one of the gifts from Paul. To be quite honest I have no clue what this is supposed to be ;) But hey it got Doom so...
Another Gift from Paul.This I suppose was a part of some role playing game ? maybe ?
This is og the goodies for sale at the "Marvel Island" . You got two tiny lights where his eyes are ( got to change the battery though.
Another goodie i found in the States years ago. I should unwrap it and see if my computer can read it ;)
Yep This is a Dr Doom tatoo! Oh there is also a " Thing" tatoo but who care, right ? ;)
2 stickers. I'm sure they did many more. Those captions are fun :)
This is a Magnet
another Magnet. Based on a stamp from Congo. ( I can't believe they did an official stamp out of Dr Doom in Congo ! )
Another Magnet
It is a lightswitch. Custom made by someone who sells all kind of decorated lightswitches on ebay. I really wonder how many people buy a Dr Doom Lightswitch...